Warehouse structure details
All of our modern warehouse buildings are constructed of precast concrete and steel, enough to meet both expanding and peak storage requirements. Public warehousing at AlWPL enhances your flexibility with the space to accommodate seasonal and cyclical inventory build-up, as well as emergency or unexpected inventory surges, while eliminating the capital costs associated with building and owning your own warehouse space and avoiding long-term commitments.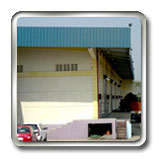 All warehouse space is completely protected by automatic fire and security systems. Fire systems – Hydrants are automatically operated with power back facility, giving you the lowest possible insurance rates and an unlimited insurable valuation for warehoused goods.
With our clear ceiling heights from twenty to thirty feet, our storage facilities are designed to maximize usable storage space and permit ready access to stored goods. We have in-house equipments to facilitate time bound, safe and easy loading and unloading of many types of product packages.
All India Warehousing Pvt. Ltd.,
has a state of the art Warehouse Management System that allows customers to view and pick orders online
Ideal Location:
Our warehouses are strategically located to afford excellent accessibility through major highways. Our JNPT branch is located on National Highway – 4B within radius of 15 Km to Port and 5 Km radius of all Container Freight Stations. With our central geographic location, transportation costs remain low and your customer markets are never far away.