We build personal relationships with our clients by listening closely to their needs thereby providing time savings, convenience, honest input, exceptionally high service levels all at a competitive price! AIWPL uses our small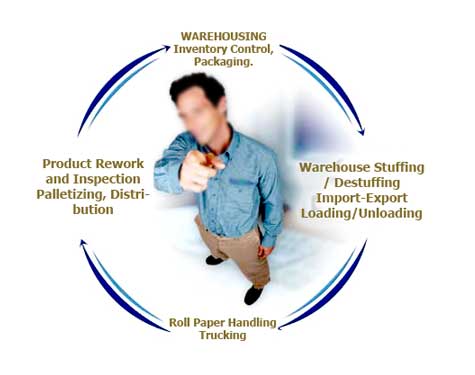 company stature to minimize bureaucracy and cut through red tape so your special projects are handled as you would handle them if you only had the time!
To best meet the diversified needs of today's complex market environment, we at AIWPL have developed a full range of special and custom services. These services include computerized inventory management with perpetual maintenance of inventory records, outgoing order assembly, stock rotation, re-packaging, merchandise inspection and product testing, and case stencilling. Our experienced, highly trained personnel are always ready to perform any and all of these tasks as needed, but you pay only for those services you require.
Our Mission is to provide cost efficient, high quality warehousing, distribution, and value added services that will enable our clients to meet and exceed the expectations of their customers.
WE PROVIDE THE FOLLOWING SERVICES:



WAREHOUSING



Inventory Control, Packaging



Product Rework and Inspection



Palletizing, Distribution



Warehouse Stuffing / Destuffing



Import-Export Loading/Unloading



Roll Paper Handling



Trucking